Frequently Asked Questions
We're Here to Help
Below you'll find the answers to some of the most commonly asked questions related to purchasing our products, their uses, and other miscellaneous questions. If you have a question that is not answered below, please visit our contact page and a representative will be in touch.
Punching Questions
How do I determine the correct size die for my punch?
Material type and material thickness determines how much clearance you need between the punch and die. The harder the material the more clearance you'll need. The thinner the material, the less clearance needed. The thicker the material, the more clearance you'll need. This will then dictate what size die will correspond to your punch.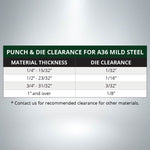 Clearance Chart
Adding a shear to the punch end is the most common way to reduce tonnage.
Adding a shear also reduces tooling and machine shock, and can help extend the tooling life.
Contact Customer Service to determine the correct solution for your application.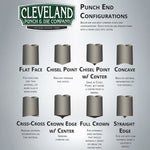 Punch End Configurations
How do I know which type and size keyway is needed for my punches?
The machine you have will determine which type and size keyway you need. Below is a list of popular keyways.
| KEYWAY TYPE | DIMENSIONS |
| --- | --- |
| 1/4" x 1/8" | .250 WIDE x .130 DEEP |
| 4mm x 4mm | .157 WIDE x .157 DEEP |
| 4mm x 2.5mm | .157 WIDE x .098 DEEP |
| 6mm x 4mm | .236 WIDE x .157 DEEP |
| V-Groove | .250 WIDE x 90º |
If you are unsure of what type or size keyway you need:
Refer to the machine owner's manual
Measure the keyway width on the machine's Punch Stem
Contact one of our Customer Service Representatives
We recommend adding keyways to all shaped punches. Keyways keep users safe by ensuring the shaped punch does not rotate.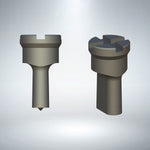 1/4" x 1/8" Cross Keyway
V-Groove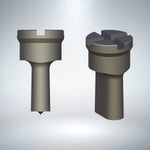 6mm Cross Keyway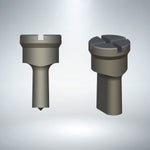 4mm Cross Keyway
How do I extend the life of my tooling?
Apply Punch-Easy Lubricant to your punch and die about every 5-10 hits
Having proper clearance between your shear blades, punches, and dies
Having your material completely under the stripper plate when punching
Adding a special coating to your punch
Adding a special shear to your punch end
What are punch coating options?
MG1: a general-purpose coating with excellent wear resistance allowing for increased tool life and performance. Recommended for applications in medium carbon-steels, alloyed steels, and general-purpose machining. Not recommended for applications in nickel, copper, or stainless steel.
MG2: A harder more lubricious coating offering superior wear resistance allowing for maximized tool life and performance. Recommended for applications in stainless steel, titanium alloys, low carbon steel, alloyed steels, aluminum alloys, nickel, and copper.
What are common mistakes when punching?
Using the same size punch and die – do not use the same size punch and die. Refer to Question 1 to determine the correct die size for your punch.
Not having your material under the stripper – if your material is not completely under the stripper, the material will stick to the punch during the upstroke. This could break the punch end.
How do I punch angle iron or channel?
How do I find the dimensions of a punch or die (if no part #)?
When measuring a punch, your Customer Service Representative will need the Head Diameter, Body Diameter, and Overall Length.
When measuring the die, your representative will need the Outer Diameter and Height.
You can also refer to your machine's manual.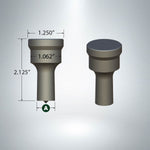 Punch Dimensions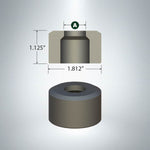 Die Dimensions
How can I avoid burrs in my material while punching?
The most common reason for burrs in your material is having too much clearance. Refer to the clearance chart for the correct punch and die size per material thickness.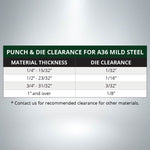 Clearance Chart
What shaped punches and dies are in stock?
Round
Oblong/Slot
Square
Hexagon
Corner Radius
Picket
*Stock Sizes may vary
How thick of material can I punch?
Never punch anything thicker than the 'A' Dimension of your punch.
Example: if your punch size is 1/2", your material thickness should not exceed 1/2".
Online Store Questions
How do I find something not shown on the online store?
If there is a size not listed online, email us at sales@clevelandpunch.com, or call us at (330) 296-4342.
Chat with a live Customer Service Representative to get help right away, without having to leave the website.
Can I order tooling online internationally?
We currently ship online orders to the United States, Canada, and Mexico.
For all other international orders please call 330-296-4342 or email alex@clevelandpunch.com.
Can I pay online with account terms?
How long does it take to ship an order?
Stock items typically ship the same day if ordered before 3:00PM EST. Stock items ordered after 3:00PM EST will ship the next business day (excluding weekends and holidays).
Punches with keyway features typically ship the same day if ordered before 12:00 PM EST. Punches with keyway features ordered after 12:00 PM EST will ship the next business day (excluding weekends and holidays).
Miscellaneous Questions
Where can I find the Safety Data Sheet (SDS) for Punch-Easy?
What accessories do you stock?
We stock all kinds of accessories for your tooling applications and machines. Common accessories include:
Die Holders
Die Reducers
Coupling Nuts
Hardware
Keystock
Punch Holders
Punch Stems
Quick Change Sleeves
Urethane Compressor
Wrenches
How can I receive promotions from Cleveland Punch and Die?
To receive marketing email promotions, Click Here.
Do you sell machines or drills?
No, we manufacture and sell punches, dies, shear blades, and accessories for ironworkers and various punching machines.
We have strong relationships with the Original Equipment Manufacturer (OEM) and Dealers, so we can help connect you with a machine representative.
It is an exceptionally good punch and shear oil for thick, high-carbon steel, armor plate, grader blade, farm implement tools and stainless steels. It's to be used for cold applications and not made for any hot application.
Applying directly to the punch, die, and shear blades helps reduce friction and heat which then increases the life of your tooling. It also helps keep your tooling from rusting.
Custom Application Questions
What are custom punch shapes that can be made to order?
Our engineering team can make many different punch designs that fit with your machine. Here are a few examples of the different custom shapes and designs that our team has engineered and machined: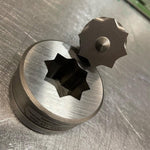 8 - Point Star Punch and Die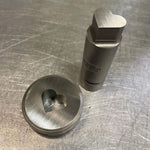 Heart Shaped Punch and Die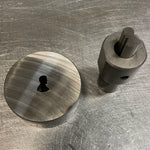 Abe Lincoln Punch and Die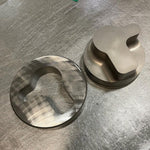 Duck Head Punch and Die
Shear Blade Questions
How do I fully utilize my blade life?
Flat Bar blades have up to four cutting edges. To fully utilize your blades, rotate and flip the cutting edges when they begin to wear out.
Punch-Easy should also be applied before shearing.
Contact a Customer Service Representative to determine how many cutting edges your blades have.
How do I know which shear blades fit on my machine?
If you have the following information, refer to your machine's manual, or match your dimensions with the blade dimensions online:
Machine Make
Machine Model
Blade Length
Blade Width
Blade Height
OEM Part Number
Refer to the image below to see how to match your dimensions with the dimensions online.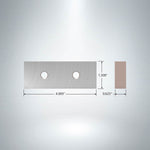 Blade Dimensions

x